One of our favorite things to do at AppWorks is to share our knowledge and enthusiasm for the FileMaker platform.
Located in the heart of Portland, Oregon, and in the heart of the FileMaker community, we are uniquely situated to offer a variety of FileMaker-related trainings.
Classroom-Focused Training – condensed, 3- and 4-day courses for beginner, intermediate and advanced FileMaker developers taught by Matt Navarre and a host of other guest speakers and trainers throughout the year. The courses are based on the FileMaker Training Series – the official FileMaker, Inc. training curriculum.

Client-Focused Training – we will come to your place of business; or bring you to ours at your behest.

Customized Training – tailored just for your needs, large or small.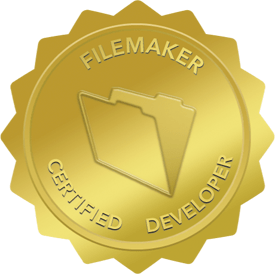 Upcoming FileMaker Training Sessions:
FileMaker Training AppWorks is offering FileMaker Pro Advanced 17 Training a six-part series at the beginning / intermediate level. The format will be instructor led with plenty of hands-on development. Bring a specific project to work on if you can, and you'll have made great progress during the classes. We will be using FileMaker Pro
Read More