One of our favorite things to do at AppWorks is to share our knowledge and enthusiasm for the FileMaker platform.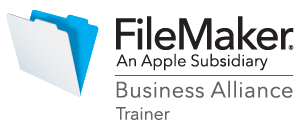 Located in the heart of Portland, Oregon, and in the heart of the FileMaker community, we are uniquely situated to offer a variety of FileMaker-related trainings.
Classroom-Focused Training – condensed, 3- and 4-day courses for beginner, intermediate and advanced FileMaker developers taught by Matt Navarre and a host of other guest speakers and trainers throughout the year. The courses are based on the FileMaker Training Series – the official FileMaker, Inc. training curriculum.

Client-Focused Training – we will come to your place of business; or bring you to ours at your behest.

Customized Training – tailored just for your needs, large or small.
Our trainings cover a variety of topics, including but not limited to:
| | | | |
| --- | --- | --- | --- |
| Creating a Database & Working with Templates | Importing & Exporting Data | Card Windows | Exporting to PDF |
| Using Data Tables | User Interface Design (UI/UX) | Themes & Styles | Sending email, SMS, etc. |
| Fields (text, number, data, time, container, etc.) | Use of Layouts in FileMaker 17 | Scripting & Calculations | Using JSON |
| Calculation & Summary Fields | Portals | Developing for FileMaker Go & WebDirect | Integrating fmLog & fmRecentRecords |
| Relationships, primary keys & join tables | Button bars for navigation, action, and to display data | Reporting | Deploying FileMaker Server |
Inquire about training sessions by emailing sales@app.works to see how we can teach you the skills you need to be successful.