Monthly FileMaker – Portland Meeting – March 2015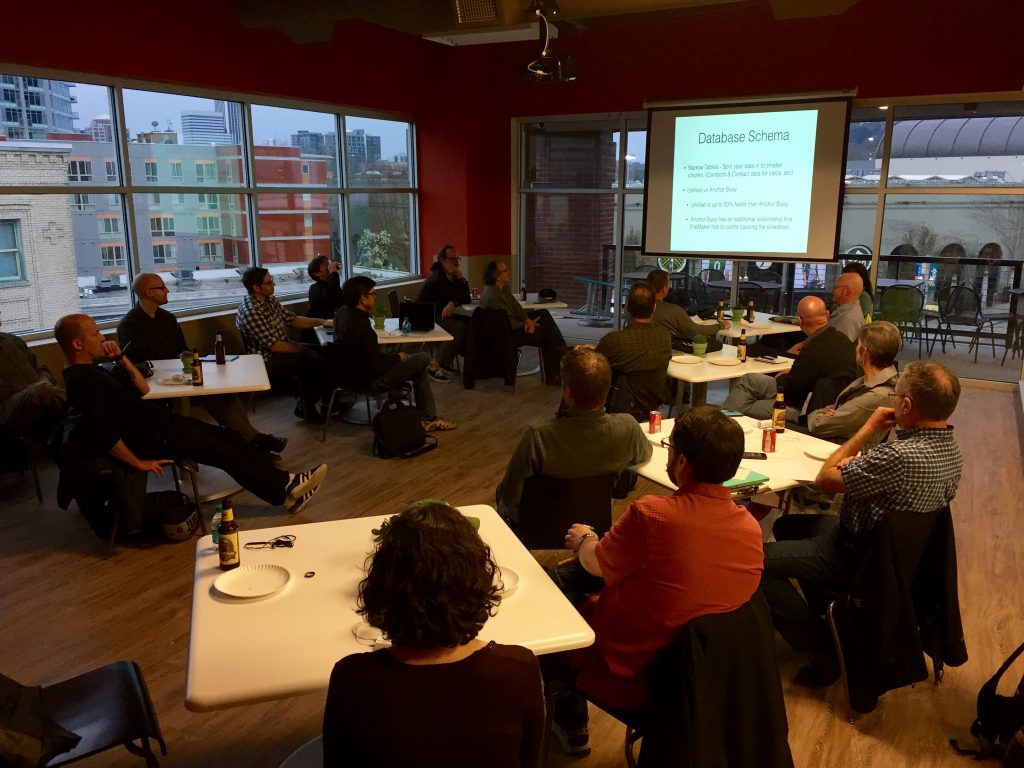 The FileMaker – Portland Meetup Group met on Wednesday, March 12, 2015 in a brand-new location: the newly-remodeled Stadium Fred Meyer on West Burnside in NW Portland.
The new location sports a terrific third-floor view of the West Hills and of the Providence Park (home of the Portland Timbers and Portland Thorns soccer teams). Parking is ample and there's also great grocery shopping to be had pre- and post-meeting.
Gerald Chang, of Eight2, co-hosted the event and, this month, Joey Grimaldi of ODI Technologies supplied food and beverages. Thanks to Gerald and Joey!
In addition to a new location, the group is experimenting with a new format. Meetings start with FileMaker tips and techniques, followed by one or two feature presentations, and end with open mic time for all things FileMaker — including Q & A, discussions, and general announcements/information.
This month, Joey Grimaldi presented on FileMaker Performance Over a WAN (watch out for unstored calculations and thick tables!) and Matt Navarre demonstrated FileMaker Pop-over tips and tricks (what can't you do with a popover?).
It should not go without saying that we saw many new faces at this month's meeting. We're always delighted to see new folks coming out, meeting fellow developers, making connections, offering work or soliciting work and, in general, meeting and greeting and participating in our well-established and long-lived group of FileMaker geeks. If you haven't attended a meeting, or if it's been a while, we'd love to see you again! Now is a great time to sign up.
The group meets next month on April 11th at 6pm. Hope to see all of you there.
---